https://www.amazon.com/Horses-Rescue-Barbie-Sisters-Reading/dp/1101939958/ref=pd_sim_14_5?_encoding=UTF8&pd_rd_i=1101939958&pd_rd_r=0G2GC81AJ19PVBAPMKN6&pd_rd_w=5VTIV&pd_rd_wg=rzhyA&psc=1&refRID=0G2GC81AJ19PVBAPMKN6
I tripped over this mess in the grocery store, and I Could Not Look Away.
First thing I make a point of in my art classes is DO YOUR FRIGGING RESEARCH!!!!! That's how we get fabulous stuff like Finding Dory and every Pixar movie ever made and Kubo and the Two Strings and Moana and Bambi and most Disney films ever and How to Train Your Dragon (I have done Viking re-enactment and rowed/sailed a couple of Viking longships and I know they don't have horned helmets but… THAT WAS FABULOUS!) and Madagascar. Because the artists studied their subjects, then ran off and bent reality like fence wire.
Note how well Disney cartooned Belle's horse in Beauty and the Beast, or Angus in Brave (Pixar). The ones in this book suck rocks and ostrich eggs.
Let's mention girls riding in stupid clothes with no helmets. At a couple of points in the book people are wearing actual breeches and boots, but that's as far as reality goes.
Let's mention horribly stupid "tack" This is a bridle…
There are other functional versions of this, but they all involve a headpiece/headstall/crownpiece holding up a bit or noseband or both. I found that pic on google in like two seconds.
This is a frickin' gorgeous MODEL HORSE (Breyer) with a handmade model bridle. It's perfect.
This is a bitless bridle like the one I use…
this is a more traditional "bitless bridle" called a bosal…
There are about a gazillion other kinds of bridles used on equines, reindeer, mules and other draft animals. It's stupid easy to look them up, then cartoon or stylize it.
You have to understand how something works before you can stylize or cartoon it, so you know what to leave out, what to exaggerate, and what's important.
Same for saddles.
aaaaaaaaaand this is a "toy"…
took me half a minute on Mr Google.
aaaand western… toy…
This is the awesome Sam Savitt, sadly, no longer living…
and Wesley Dennis…
I have this book. (The horse is wearing a halter not a bridle, an important distinction).
and Misty of Chincoteague… I saw her the last year she was alive… the first year I visited Chincoteague…
now this is cute….
from danasdoodles.com
then there's the inimitable Thelwell…
there's this rather fanciful Arabian from Disney… (missing the reins, I guess the horse works on voice commands or is telepathic)…
not much more fanciful than the ones I built…
me, Bazraf, one of my attempts at living history costuming…
Let us just pause a moment to appreciate the Time Disney Ffffff'd Up… OK, so they were mice. But they are now wearing the Bellybands of Doom, which will slip back to their nether regions and cause them to go into bucking fits. Also there is no crownpiece on those bridles, so they will fall off, causing the horses to spook at the next cat crossing their path (remember, they were mice) or blowing paper (they're now horses), wrecking the carriage and sending Cindy to Certain Death.
Below, the harnesses seem to have resolved themselves into a breastplate and girth, functional and simple for traditional 2D animation. The bridles are still missing the crownpieces… they're gonna fall off… although there is that odd little break in the mane as if there is an invisible crownpiece…
The times Disney did not ffffff it up… actual Fjord horses in actual Fjord horse colors acting like actual horses (dumping Anna in the snow because… BLOWING SNoOooOW!!!! The bridles are simplified into bitless bridles for some reason, but they work. The haircuts are totally authentic Fjord.
There's this too…
https://www.buzzfeed.com/mathewguiver/the-ultimate-ranking-of-disney-horses
The Chinese horses in Mulan, that looked like classic Chinese horse art. The dapple grey is simplified (classic 2D animation) with only a couple of "hidden Mickeys" for dapples. The black is oddly countershaded (lighter belly). Both horses have their eyeballs moved to the front of their heads (nope, hroses have 'em on the sides so they can see the wolves coming), which is a classic anthropomorphization technique. The legs are skinnied a lot, but it exaggerates the Chinese horse look.
Belle's horse in Beauty and the Beast is one of the most horsey and fabulous. He looks like a Belgian, and reacts like a horse.
Gaston gets the Black Horse… er… something. That mane and tail are the wrong color… …unless his horse is actually a "silver", a black horse with the silver dilution gene…
Yep, that even looks like his horse there…
Before My Little Mystery Critter became unrecognizable as equine, Disney perpetrated these in Fantasia… They're kinda… cute… like kakamora.
These were better…
though it irritates me that Disney and others think baby horses look like puppies… NOOOOOOOOOOOOOOOOOOOOOOOOOOOOOOOOOOOOO they are leggy and stalky like this…
so they can escape the predators…
The centaurs were kinda nice…
Snow White's horse is actually based on a specific Arabian stallion… As Spirit is based on a specific Spanish mustang…
while these guys spent waaaaaaaaaaaaay too much time vocalizing (horses are generally quiet, communicating with body language), and had weird eyebrows and humanized eyes (tom communicate with a non-horseman audience), it was clear the artists not only studied horses, but Spanish Mustangs!
Maximus from Tangled gives me mixed reactions. For one, I did not like the whole film as much as I have loved other Disney epics. Ho hum, Nice Girl meets Bad Boy, fixes him…lalalalalalala. Epic villainess though.
Maximus is a pretty good design, it's just that he acts like a dog. AND HORSES ARE FUNNY ENOUGH WITHOUT TURNING THEM INTO DOGS!!!!!
This guy from 101 Dalmatians is just cute… Achilles, Hunchback of Notre Dame…
aaaaaaand Snowball is just epic…
like a Friesian on stereoids.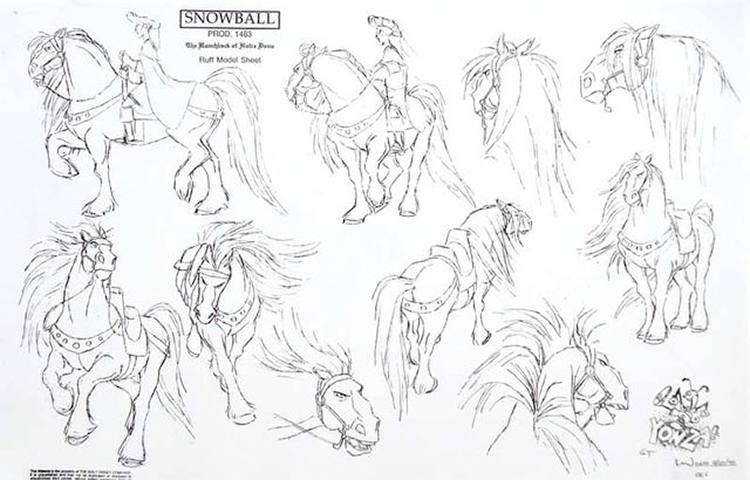 This guy was heavily stylized, but cool.
The only thing that bugged me was making the lower legs so much longer. That's how deer work, but horses are bred for shorter lower legs (cannon bones) and longer upper legs.
He's quite cute and his wings work beautifully.
And the most epic horse of all…
even if he got into the tardis to get into this film. Clydesdales didn't exist until the 19th century. Angus is the most horsey horse, and who would not want a Big Black Epic Horse.