Yep…
that sure was a Marvel movie…
yep…
that was a blast…
literally…
lots of stuff blew up…
pretty much continually…
but…
BUT
they also paused for actual emotion…
and character development…
and relationships…actual relationships…
I mean, we CARE about a trash panda with big guns and a treeling who can only say I am Groot…
…and the green chick and her weird colorful sister… and their dramaaaaaaa…
and the big guy with the serious demeanor and the tattoos who can cuddle a treeling…
and the chick with the antennas who can hold off a pissed off planet named Ego…
yes…Ego… and it fits all too well…
and the shiny gold people who are all those snotballs we knew in high school…
and the blue guy with the arrow what responds to a whistle like a very deadly doggie…
and Kurt Russel who is not Knight Rider but might be a more interesting Dad for Starlord…
or not…
and Chris Pratt…
just Chris Pratt.
nuff said.
just go see it.
I mean… one of the lyrics in a song under the credits is "procyon lotor"…
which for those of you who are Wild Kratts impaired is the North American Raccoon.
which Rocket claims he is not.
I'm not arguin' with him.
In this age of grim and grimmer, it's nice to have the Guardians of the Galaxy back….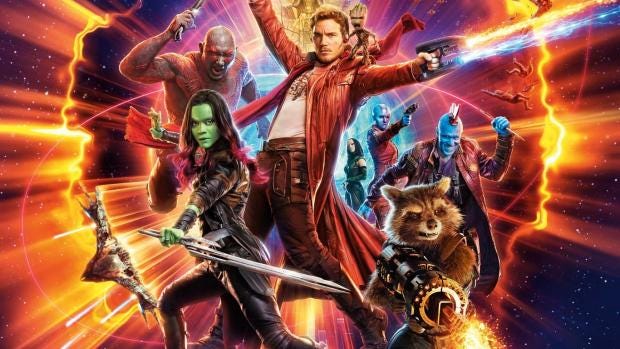 and stick around through the credits, which (typical Marvel film) has lots of goodies…
teen Groot………
snnorrrrrrt!!!!